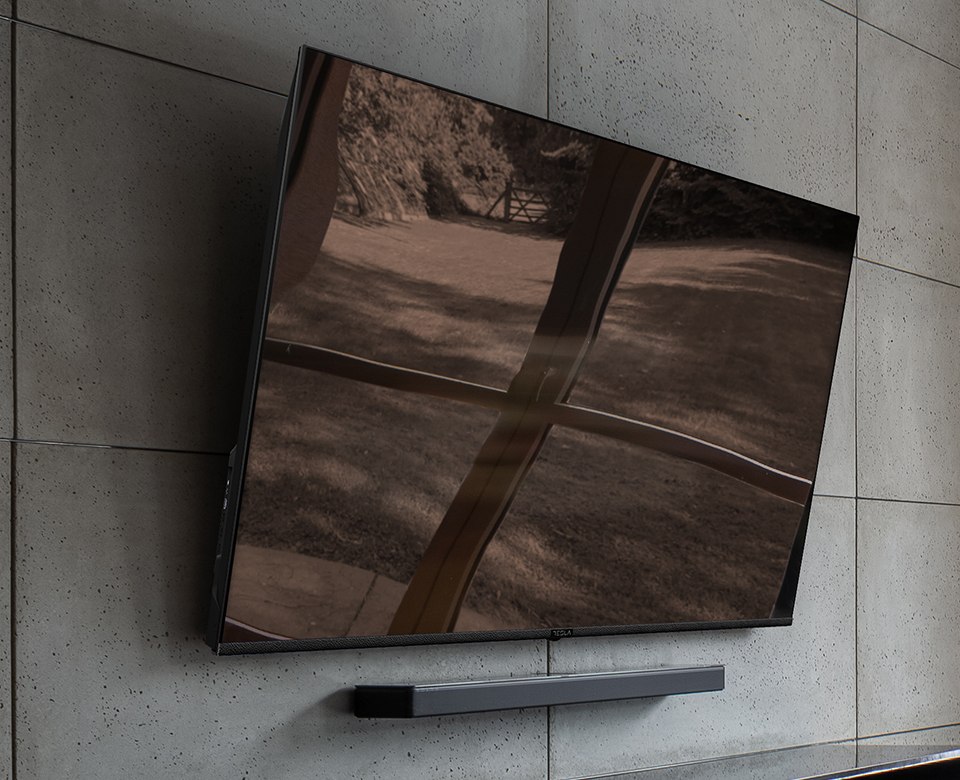 Reading time: 4 min
26.04.2021
TV MOUNT: DO YOU NEED IT AND WHICH ONE TO CHOOSE?
A mounted TV is one of home decoration trends of the last few years. However, the question is do you really need a TV mount and, if so, which model should you choose?
To make sure that a TV mount is the right investment for you, we will go through some basic concepts and information.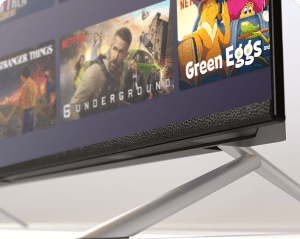 When do you not necessarily need a TV mount?
There are situations when your TV mount is just an additional expense which you don't need to expose yourself to. That is, if you are not just blindly following the latest trends. 😊
One of these situations is when the room in which you plan to place the TV is large enough, so the TV will not disturb the aesthetics and make the room "crowded". However, even if you have a small room, you can choose a Tesla TV with smaller diagonals. Because the most important thing is that your TV is positioned correctly, so that it provides good visibility from all angles. We wrote about how to calculate the correct distance of the TV in relation to screen dimensions in one of our blogs here.
Another one is if you already have or you're planning to buy a Tesla TV with a very thin screen, that can easily fit into any TV shelf and does not take up too much space.
Additionally, if you already have a TV shelf that perfectly fits into your interior, there is no need to buy and install a mount.
When is a TV mount a practical solution?
Whether it is just your wish, or you really need one, it's important to know what types of TV mounts there are and which ones to choose according to your needs.
TV MOUNT TYPES: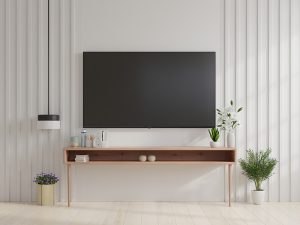 Fixed mounts do not offer the ability of adjusting the viewing angle. They are placed on the wall, exclusively in a flat position and very close to the wall, looking almost like a picture. They are recommended if you just want to avoid TV shelves. In case you choose this model, it is important to place it at eye level while sitting across from the TV. However, it is important to know that this position will not always suit all members of the household (if, for example, you have children who would prefer a lower position). In addition, it is important to consider the location of the light source in your home, in order to avoid daylight reflection on the TV screen due to incorrect placement. The TV is fixed and there is no possibility of movement after the mount installation.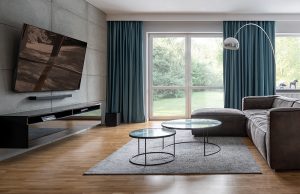 Tilting mounts, unlike fixed ones, can be moved at a certain angle and generally allow vertical movement of 15° to 20°. They are separated from the wall a little more than the fixed mounts and are suitable for rooms which require less adjustment of the TV position. They mount above the standard viewing position so that the screen can be tilted downwards, allowing an optimal view of the TV. If you have limited, small and cramped space, and you need to put the TV higher, this mount is definitely a better option than a fixed one.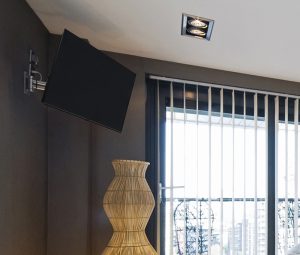 Swivel mounts are the most flexible type because they can be completely moved left or right, and if necessary, pushed forward, so they never have problems with TV positioning. You can even place the TV in a corner and then adjust it to your current position. The disadvantage of this mount is that it is placed quite far from the wall, so it sometimes takes up space that couud be used differently. If the room is small, keep the bed in the corner furthest away from the TV. This will visually lengthen the room. This model is also used if there is no space for a classic, flat mount, or if you have a large living room and want to watch your favourite channels from different angles. Then your TV can always follow your gaze. It is important to note that with this mount model, you can easily adjust the screen position and avoid daylight reflection.
In addition to wall-mounted TVs, there are also ceiling and floor mounts. Both categories are more oriented towards professional application and are less used in living accommodation.
Of course, in addition to the main types, there are also subcategories of mounts, especially swivel ones which offer different rotational options.

What does this look like in practice?
The first image shows the optimal height of a fixed TV mount a that does not have the ability to tilt or move left and right. The second image recommends the height at which to place the TV if you have decided on a tilting mount for the TV, and the third example shows a swivel TV mount where the optimal height is also around 170-250 cm.

What else is very important when choosing a TV mount?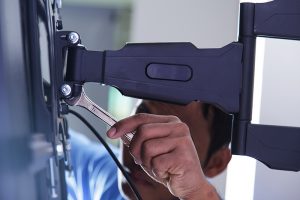 The VESA standard is used for mounting all flat screen TVs. This implies the installation of threaded openings on the back of the TV. The vertical and horizontal spacing between these openings represents the VESA dimensions. So, when you want to know what VESA standard your TV is made for before buying a mount, simply measure the horizontal and vertical distance between the openings.
In addition, TV mounts should support the weight of your TV in order to be absolutely safe. Be sure to check this, because not all TV mounts have the same resistance and durability.
An important thing is also the distance of the TV from the wall. It is important to know that not all mounts are adapted to the thin profiles of the TV and not all have a small distance from the wall.
If you arrange the furniture with the position of the TV, you can get an original ambience as a result. How to make your TV a perfect part of the interior, see here.
We hope that our blog will help you decide whether you really need a TV mount and, if so, it makes it easier for you to choose the right one.