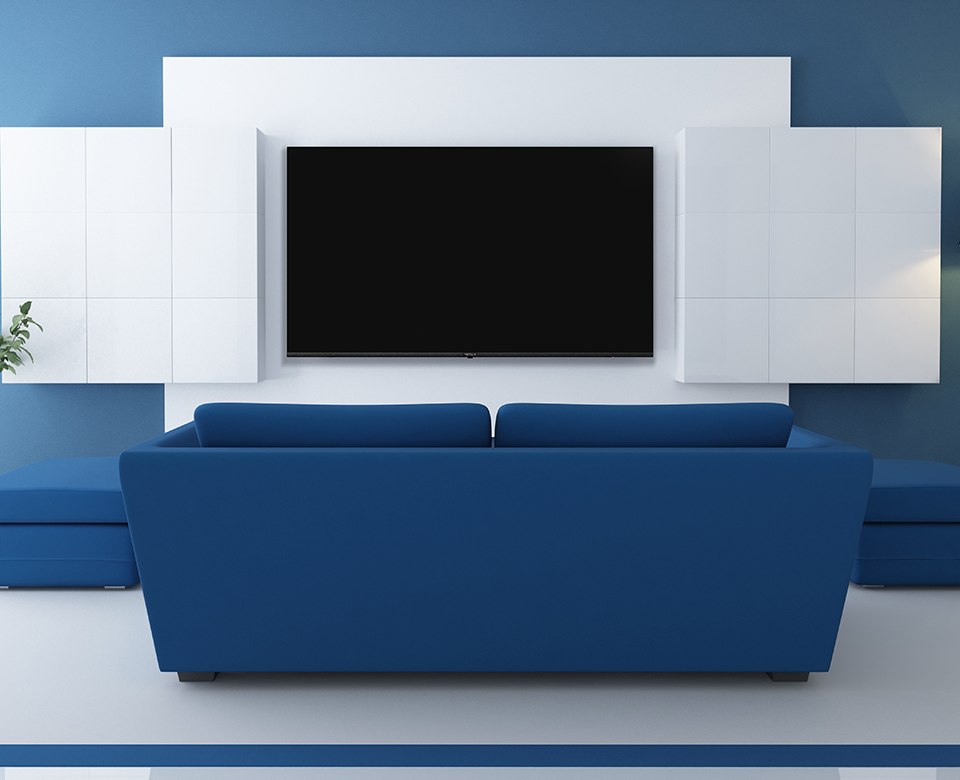 Reading time: 5 min
22.04.2021
DECORATIVE WALL: MAKE YOUR TELEVISION BECOME A PART OF THE INTERIOR
A decorative wall for your TV will bring a feeling of freshness to your home, and it can also be a nice little art gallery.
The TV is a favourite part of the living room and a gathering place for the whole family. One of the main questions is how to make fit in with the beauty and harmony of your space? 🤔
Depending on the style you prefer and the way your home is decorated, we bring you a few decorative wall ideas for your TV. That way, not only will it not disturb the harmony, but your home will get a completely different dimension and look more interesting. Of course, you can let your imagination run wild and find a middle ground between the proposed ideas. Expressing creativity on a wall has never had a wider application. 😊
Thanks to their design, modern TV models are much more compact than their predecessors. The beauty of the Tesla S905 TVs will save your world of technology from boredom. With their modern look and suitable dimensions, it offers numerous ways of setting up and decorating.
In one of the previous blogs, we gave you tips on how to ideally set up a TV. Now is the time to complete that practical application with a decorative one. 😊 See how the Tesla S905 TV fits into any decorative wall.
Decorative wall with modern wallpaper
Wallpapers are one of the easiest decorative pieces that add drama and creativity to any room. Especially since no special skills are required for their installation, and they are quite affordable.
It is up to you to choose the colours and patterns that fit your style and place them on one part, or on the whole wall intended for your TV.
In accordance with the choice of wallpaper, add a little more charm to decorative details such as vases, frames, scented candles…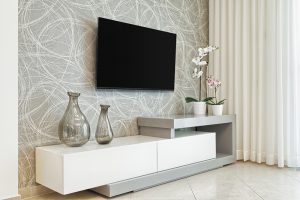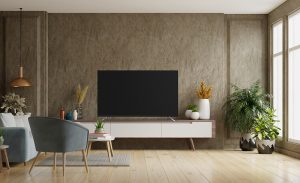 Decorative wall made of natural materials
Stone, wood, or the famous brick… With different colours, light and size of the wall, these natural materials help you to easily create a decorative wall. All natural elements represent a perfect decor for a beautiful wall cover. Green plants also fit in perfectly with them, creating a small natural oasis in your home.
You can place the wooden panels horizontally which adds texture to each room. In addition, wood materials tend to soften cold and sterile aesthetics.
This way, your decorative wall gets an unusual structure that emphasizes the part for which it is intended. A great choice for anyone who loves a charming environment. In addition, the wall panel can create the "immersion" effect of the TV, framing it with a wooden part.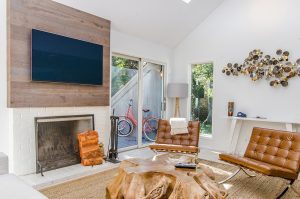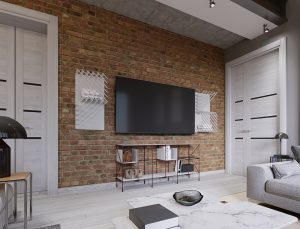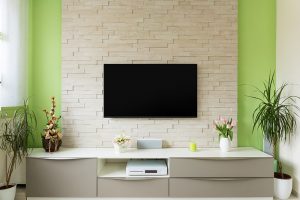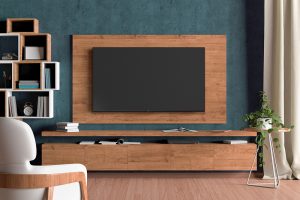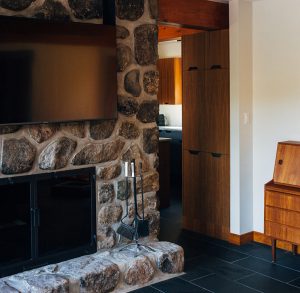 Decorative wall with painting techniques
There are numerous professional painting techniques that can be used to decorate a wall or part of it. Some of them make beautiful embossments, while others successfully imitate wallpaper or natural materials such as stone and brick. Their advantage is durability and the fact that they are significantly cheaper than using natural materials. The possibilities for wall textures are almost limitless.
As with the previous materials, here you can let yourself play so that your decorative wall for the TV is either a completely central figure of the living room or a consistent part that fits perfectly into other decorative elements of your home.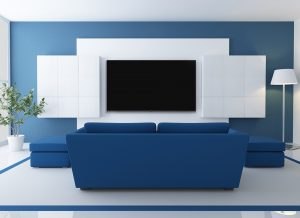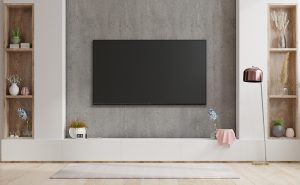 Pastel colour decorative wall
If you like pastel colours, the good news is that they are in trend. 😊
Pastel tones give extra light and openness to the space and create a real little fairy tale in your home. They are ideal for small spaces. These shades radiate a special energy that gives the space in a vivid, youthful style.
Pastel geometry is the right choice which makes the space intimate, comfortable and easily fits with modern furniture.
If you like minimalism, furnish your space in a simple way, and attract attention with just one gentle but effective pastel-coloured wall.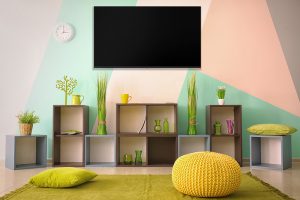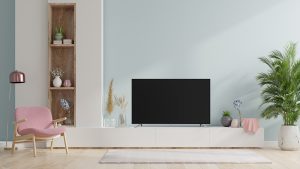 Practical decorative wall of shelves
For lovers of books, details, but also for those who lack space in their home, wall shelves are the right choice. Whether the TV is "tucked in" or especially prominent, a wall with shelves provides a lot of possibilities for a beautiful and practical decor.
You can express yourself creatively on the shelves themselves, as well as in the design of the shelves. From simple, white shelves, which make your home look wider, to unusual ones, placed in the decorative wall itself. You can also play with the colours of the wall or the background of the TV. Highlighting with a specific colour creates a perfect central point of the room.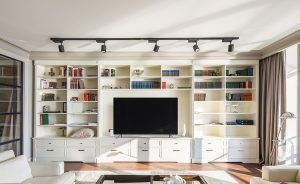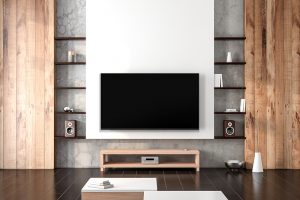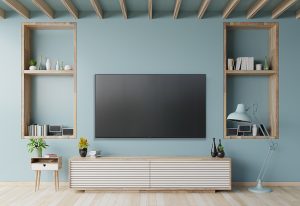 Sophisticated black and white symphony
Using black and white gives a fresh, clean, sophisticated and elegant look to any room. If you do not combine black and white with other shades at all, you retain a very elegant effect.
Walls painted in pure white are a perfect background for framed photos, paintings and other works of art. A small room is a great place to choose to use black and white as the main colour scheme.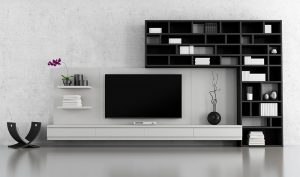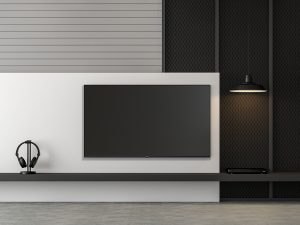 Decorative wall with lighting
This is another aspect of modern décor – so unique that it has the ability to combine different materials on the decorative wall.
If you add accent lighting to the wall, the design will be romantic, interesting and will look unusual.
As you may have noticed in the text, all these variants can be combined, intertwined and used in the way you like best. By no means should you think you need to restrict yourself to one texture or colour. The only rule is to be moderate, because there should only be one prominent wall. Never emphasize more than one wall in a room, or more than a couple in the whole house.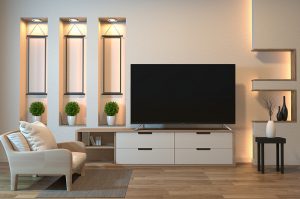 Let us know which decorative wall you like the most and enjoy your new, creative home! 😊