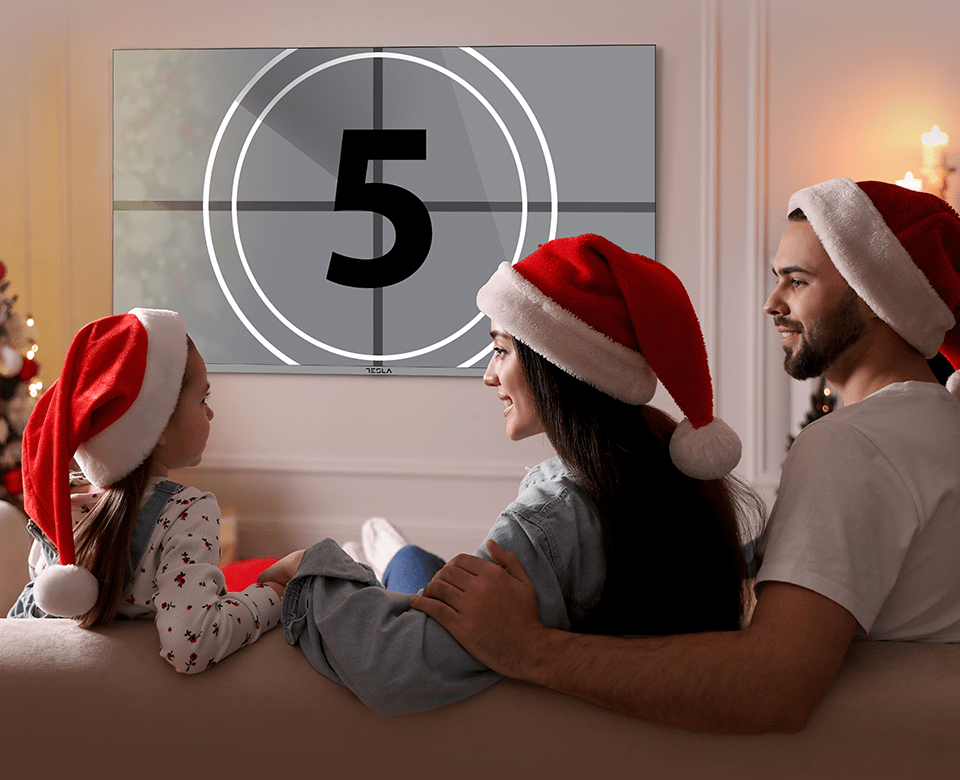 Reading time: 3 min
16.12.2022
6 CHRISTMAS MOVIES WE LOVED (WORTH WATCHING AGAIN)
The holidays awaken the warmest emotions in all of us, and Christmas movies definitely share some of the blame.😊 We can all remember enjoying the magic of Christmas movies when we were kids.
At least for a moment, let's bring back that wonderful, carefree feeling. Christmas movies offer us a way to escape the reality and enjoy this time with our loved ones.
We have selected 6 Christmas movies (listed by production year) which won't leave anyone indifferent. Not all of them are an easy watch – many have a heavy story, but offer valuable messages.
Watch them again if the titles are familiar. See them alone (to shed a tear), with your partner during a nice dinner, or with the young ones. It will be interesting to see the reactions of those who weren't yet born when the movies came out. 😊
1.    Meet Me in St. Louis (1944)

A timeless musical with a masterful performanse by the main protagonist – Judy Garland.
The story is set in the city of St. Louis in 1904. This film earned a reputation as one of the best musicals of all time.
Apart from the plot, what this Christmas movie is remembered by are the wonderful songs, which became hits, such as "The Trolley Song" and "Have Yourself a Merry Little Christmas".
2.    One Magic Christmas (1985)

Generations born in the eighties certainly remember the Christmas adventures of the Granger family.
What sets this family film with fantasy elements apart from other Christmas movies? The fact that not everything in this film is idyllic. On the contrary – Jack, a father and husband, was fired from his job, which is why he and his family have to move out of the house that belongs to the company. The children see the biggest problem in the their mother Jeanie losing the Christmas spirit. However, Santa Claus is there to perform miracles and make every wish of children around the world come true, so he will try to grant the wishes of Abby and Caleb…
The daughter Abby is the family's only hope for something resembling a happy ending, but there are plenty of reasons to shed a tear before the final act…
3.     Home Alone (1990)

Who didn't laugh at the adventures of eight-year-old Kevin McAllister back in 1990 (and in the years that followed)? 😊 Left alone in a house in a rich neighborhood by accident, at first glance he becomes an easy target for petty criminals. However, it turns out that the bad guys tried to hit the wrong target.
4.    The Family Stone (2005)

Comedy is a genre that always cheers us up, especially during the holidays. 😊 Dermot Mulroney brings home his new girlfriend for Christmas, played by Sarah Jessica Parker, who encounters a strong matriarchy in the new family… The entire family immediately hates her, except for the boyfriend's weirdo brother, whom she knocks off his feet at first sight…
Before the holiday is over, old relationships will end to make way for new ones, secrets will be revealed, and the Stone family will be reunited…
5.    Christmas, Again (2014)

Kentucker Audley stars as a young Christmas tree salesman, lonely and depressed, returning home to New York, which only exacerbates his sense of failure. He lives in a trailer and struggles to make it before a mysterious woman enters his life, along with some strange customers who help him fight his self-destructive impulses. The combination of dark and light moments in the film is very pronounced.
6.    Collateral Beauty (2018)

The brilliant Will Smith plays the CEO of a marketing agency who retreats from life after the death of his daughter. He is trying to cope with a heavy loss, and his friends help him through it.
This movie is full of emotions, sad, educational and definitely worth watching again.
Which Christmas movie made the biggest impression on you? 😊
EXTRA TIP: For the best experience (and even more powerful emotions), watch these movies on one of the Tesla Smart TVs with tons of great features.