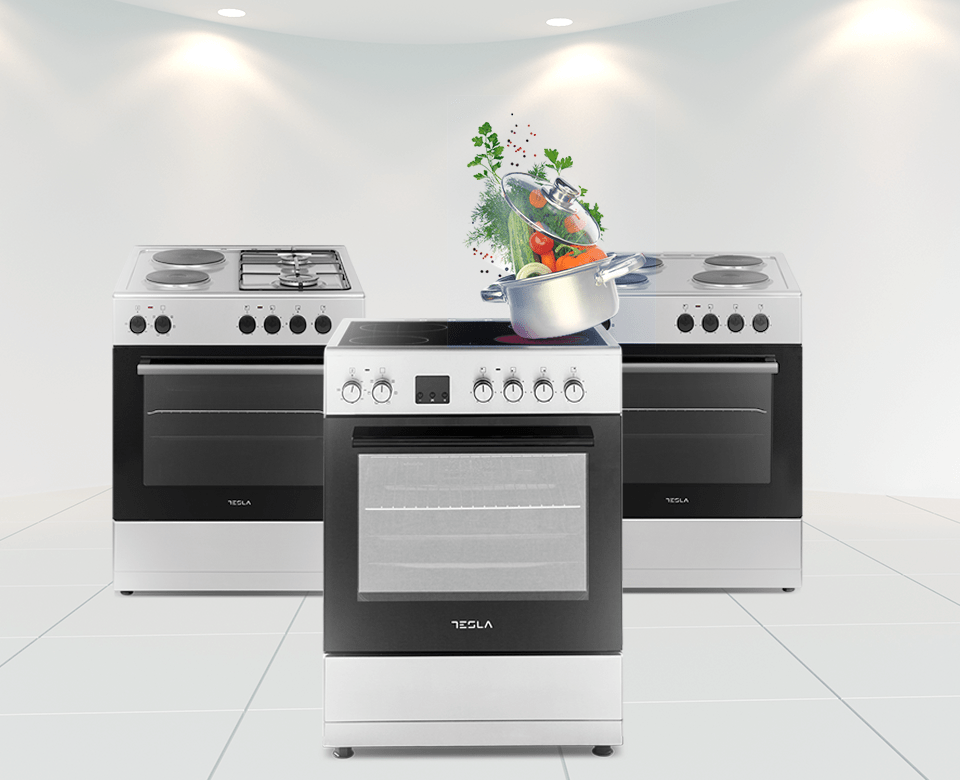 Reading time: 4 min
28.02.2023
WHEN TO CHOOSE A STOVE OVER A BUILT-IN PLATE AND OVEN AND WHICH MODEL IS THE RIGHT ON FOR YOU?
A flat plate stove, with hotplates or a hotplate-gas combination? Built-in hob and oven? Which type to choose? If you are not sure, read this blog.
Stoves today are what the fireplace used to be – the focal point of the kitchen, the heart of the house; a source of togetherness and warmth. Whether you are a top chef or a complete culinary amateur, the stove is surely one of the most important appliances in your household. That's why, when choosing it, it's important to pay attention to what better fits your kitchen as well as your needs.
Various models of free-standing stoves exist on the market, as well as separate units – built-in hobs and built-in ovens.
When to chose a freestanding stove?
If you're frequently moving;
If you don't want to change how the kitchen looks (for built-in units it is necessary to cut the kitchen top);
If you tend to change the kitchen arrangement;
Or if you simply like a more traditional kitchen look.
If you opted for a a free-standing stove, it is good to know this:
There are three key types of stoves:
Electric (with classic hotplates or flat plate);
Combined (which use both gas and electricity);
Gas stoves.
The electric stove with classic hotplates is certainly still the most common one in our homes. It could be said that it has even gained in popularity recently with its retro style, because it takes us back to our early childhoods and reminds us of grandma's traditional meals that brought generations together. 😊
However, today's versions of electric stoves with classic hotplates are significantly improved compared to the period when our mothers and grandmothers used them. So, for example, hotplates on these classic Tesla stoves are 180 millimeters wide and have 1500 watts of power, which enables fast and efficient cooking. In addition, the oven door is made of solid glass, without screws, which makes it stronger, longer lasting and easier to maintain.
If this stove model suits you best, all you have to do is choose the color – white or stainless steel. All other functionalities are quite enough to make it easy for you to prepare meals, as well as to maintain the stove.
Stoves with a flat plate are divided into: glass-ceramic and induction.
What is the most significant difference between these, compared to a stove with classic burners (apart from the aesthetics)?
Electricity savings! Which can come up to 25% of energy compared to stoves with classic hotplates.
Why is it so?
Heating elements in a flat plate have a time period for switching on and off, while in the case of conventional stoves with hotplates, they operate on the chosen temperature without interruption.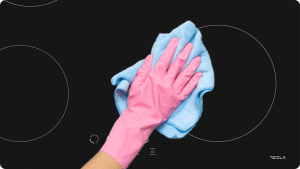 Induction stoves work using a magnetic field. This type of stove has two big disadvantages: you can only prepare food in special cookware with a magnetic bottom (which is an additional cost, if you have to buy completely new cookware). Another big disadvantage is that these stoves put a lot of strain on the electrical conductors.
On the other hand, stoves with a glass-ceramic surface, as well as induction, heat up quickly and cool down quickly, and you can use all kinds of cookware that you already have in your kitchen.
You probably don't like when there are traces of food and grease on the stove after making lunch. That's why the smooth surface of the glass ceramic, which is highly resistant to scratches, makes the hotplates extremely easy to clean – and brings a touch of elegance to your kitchen. In addition, Tesla stoves with a glass-ceramic surface have a residual heat indicator – signal lights that warn you if certain plates are still hot. This is very useful to have if you have children who use the kitchen as one of their favorite places to play.😊
As with classic hotplates stoves, we also offer a stove with a glass-ceramic surface in two colours – white and stainless steel. 😊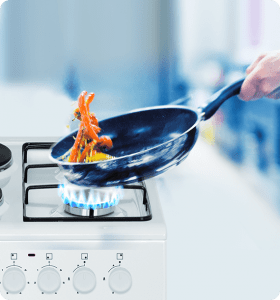 Combined stoves that use gas and electricity are very practical. Primarily – in situations when the power goes out. However, this is not the only advantage of these stoves. Gas hobs heat up faster and the cooking temperature can be set more easily. In addition, Tesla combined stoves have several other important functions:
AUTOMATIC GAS SHUT-OFF – Because safety is our first priority: this functionality registers when there is a lack of gas and automatically shuts off the supply.
QUICK AND SIMPLE LIGHTING – Thanks to a special button, the gas burner can be lit quickly and safely.
As you may have guessed, we also offer this stove model in white and stainless steel.😊
What about the oven?
Unlike conventional ones, all models have turbo ovens. The great advantage of these ovens is that the same temperature in every part, thanks to the warm air that the fan distributes evenly throughout the oven. You can prepare food in two trays at the same time, as both will be heated equally. With the turbo grill oven, your meals will taste great. Every bite is a real pleasure!
Preparing delicious meals and treats is a great pleasure for all family members. However, it is this activity always leaves a mess and stains that have been difficult to remove until now.
That's why the inside of the Tesla oven is enameled and made of one piece, with invisible joints. This design provides a smooth surface and easy cleaning. Every Tesla stove has an easy-to-remove door, making cleaning and access to the inside of the oven much easier.
And what is perhaps most important – Tesla A Energy Class ovens consume less electricity, which affects a cleaner natural environment – but also lower costs.
On the market, you can also find gas stoves that use gas for both the hobs and the oven.
We hope that after reading this blog, you have chosen the Tesla stove that best suits your home. You can view our entire offer at the link. All you have to do is prepare your favorite food delicacies and enjoy them with your loved ones! 🍲🍰😊