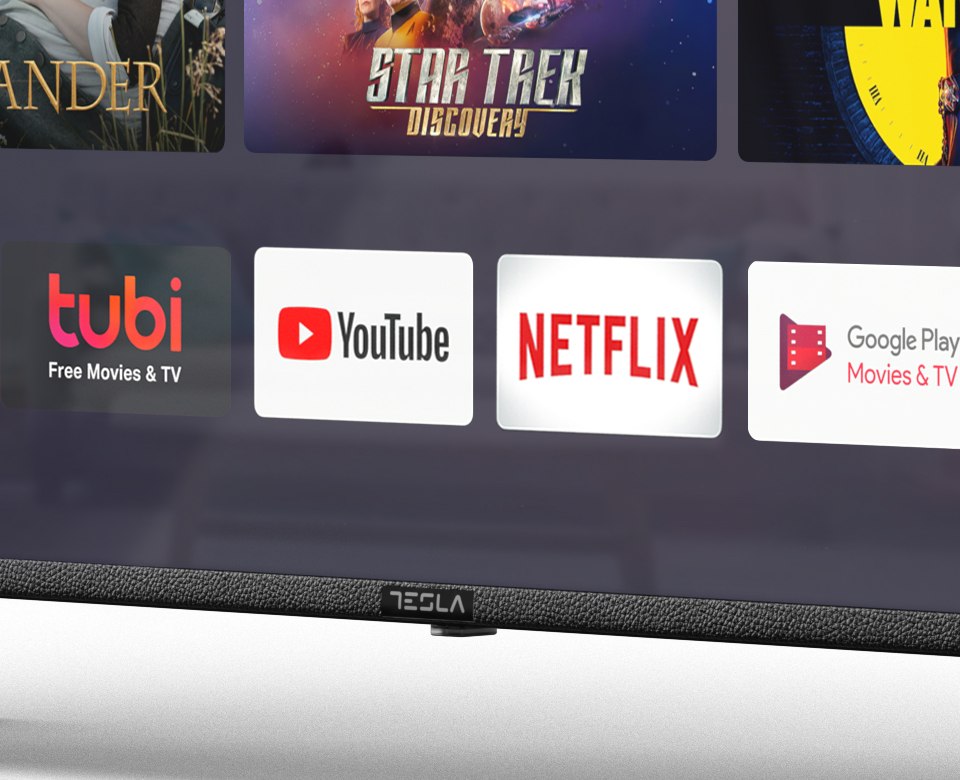 Reading time: 5 min
20.04.2021
TOP 9 NETFLIX TV SERIES
If you haven't finally decided which series to watch, we have nine great suggestions for you.
Have you ever surfed through Netflix in search of a new series and were overwhelmed by thousands of options? With such an amazing range of content it can be difficult to find the right pick for yourself. We will reveal a little secret to you: it's okay to skip over some of the latest releases, because it's not guaranteed you'll like them. 😊
This is why we've made an effort to find out what's worth watching. We tried to reduce the selection to a few great series for everyone's taste. Read our suggestions below – they are all hits, no misses. All you have to do is sit back in front of the big screen Tesla TV and enjoy your favourite streaming service, because Tesla Android TV is licensed and supports the official Android TV Netflix video app, with full remote and voice control, 4K, HDR and Dolby Vision.
"Selena"
Before she became the queen of Tejano music, Selena Quintanilla was a young girl from Texas with big dreams and an amazing voice. This vibrant music biography covers her life, from poorly paid gigs to the sale of multiplatinum albums and the status of the most successful Latino artist of all time – as well as years of hard work and sacrifice of the Quintanilla family.
The first season of this family series contains nine episodes and follows her incredible rise from childhood to adulthood. The series shows her early years in the family band Selena Y Los Dinos.
What sets this series apart from so many other celebrity stories – as well as Selena's 1997 big-screen biography – is that each episode puts a lot of  focus on Selena's family which provided her with her first backing band and remained a lasting motivational power in her life.
"The Crown"
Writer-producer Peter Morgan intended to make 60 episodes that would cover the reign of Queen Elizabeth II. Claire Foy portrays the Queen during the first two seasons, which cover the period from the late 1940s to the mid-60s. Olivia Colman takes the lead in seasons 3 and 4, which begin in 1964, moving the story through the punk and Margaret Thatcher-Lady Diana eras. A top-notch cast and lavish production are the primary selling points of this series.
The Crown cruelly presents all the infidelities, cruelty and emotional hunger of the bourgeoisie. Expect a gruelling outlook at the emotionally stranded royal families.
"The Queen's Gambit"
Based on the 1983 novel by Walter Tevis – the eclectic writer best known for "The Hustler" and "The Man Who Fell to Earth" – seven-part mini-series "The Queen's Gambit" is about a young chess prodigy.
Abandoned and entrusted to an orphanage in Kentucky in the late 1950s, young Beth Harmon (Anya Taylor-Joy) discovers her stunning talent for chess as she develops an addiction to tranquilizers that the state provides as sedatives for children. Haunted by her personal demons and fuelled by a cocktail of narcotics and obsessions, Beth transforms into an impressively skilled and glamorous young lady, determined to overcome the traditional boundaries established in a male-dominated world of competitive chess. The series was directed and written by double Oscar nominee Scott Frank.
"Trial By Media"
In this stunning documentary mini-series, we revisit some of the biggest, most media-fascinating crimes in recent history, from the murder on The Jenny Jones Show, to the media circus surrounding the crimes of disgraced Chicago politician Rod Blagojevic. With George Clooney as executive producer, the series examines the role of television and newspapers in shaping the public opinion around these crimes.
"The Umbrella Academy"
The Netlix – Marvel partnership may be a thing of the past, but this hasn't stopped them from creating some completely different, awesome superhero content. This series, based on the comics by My Chemical Romance frontman Gerard Way, tells a story of a superhero team made up of seven emotionally stunted adopted siblings. The Hargreeves children live in a world filled with miraculous creatures, like the talking chimp butler and the goldfish/time master. Combined with clever characterization and a killer soundtrack, The Umbrella Academy is a whole new approach at the famous superhero story.
"Unorthodox"
Unorthodox is an unusual story about a young Jewish girl who runs away from her life in Brooklyn, from her community and arranged marriage, in order to start her life anew in Berlin. The four-part series is based on the memoirs of Deborah Feldman – Unorthodox: The Scandalous Rejection of My Hasidic Roots. This series reflects on a portrait of a community and what it means to be an individual in it. The wonderful performance of the cast makes it stunning from start to finish.
"Jeffrey Epstein: Filthy Rich"
There was almost no news bigger news in 2019 than the arrest and subsequent suicide of Jeffrey Epstein, a former high society financier and convicted sex offender. While this four-part documentary series includes interviews with Epstein's former colleagues and associates – and particularly frightening footage of Epstein himself – director Lisa Bryant focuses on the stories of survivors, women drawn into Epstein's circle who were brave enough to share their experiences with the world.
"The Haunting of Bly Manor"
For the horror fans, here's a scary psychological story about a nanny who accidentally applies for the worst possible job. "The Haunting of Bly Manor" is located on a spacious old estate where a nanny named Dani (Victoria Pedretti) is constantly seeing unusual depictions in the shadows. The Gothic drama was created by acclaimed horror director Mike Flanagan ("Hush", "Doctor Sleep"). This latest eery series focuses on the ways the characters deal with traumas of the past and broken family relationships. The series is as moving much as it is unsettling …
"Death to 2020"
For the end, we leave you with Death to 2020, from the creator of the famous Black Mirror series, which premiered on 27 December. This "final story of the most historic year in history", features many great actors who portray different types of people – from doctors and ordinary citizens to powerful politicians. With a year like this, there isn't much to laugh about, but you can hear the comedic tones in the trailer already…