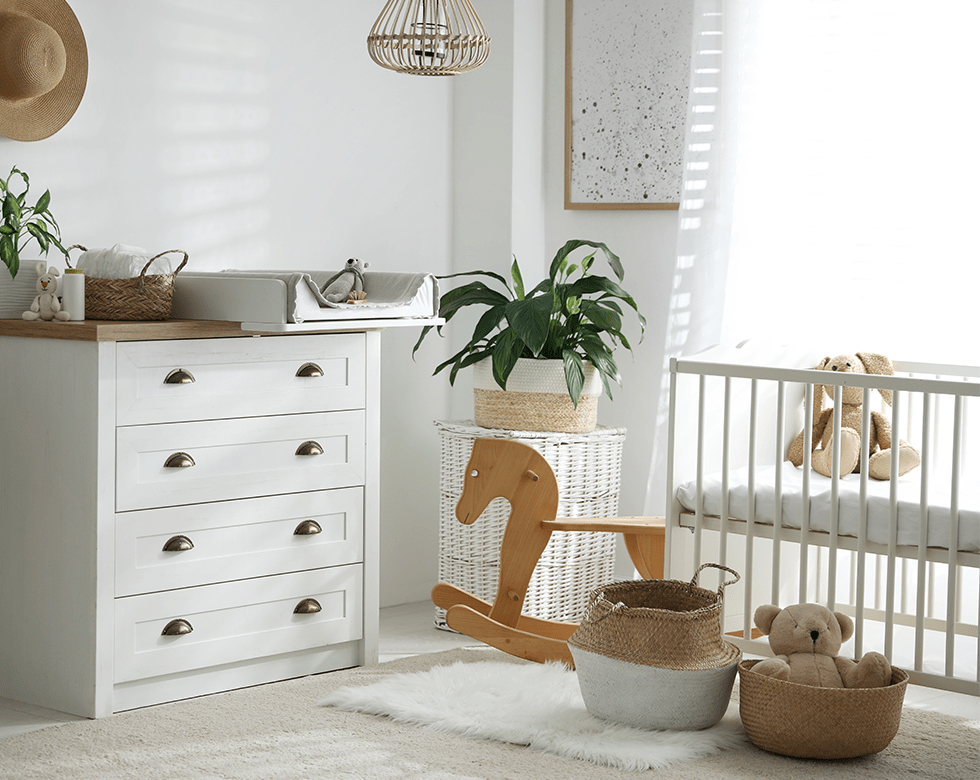 Reading time: 3 min
07.10.2021
TIPS FOR DECORATING A NURSERY
Most pregnant women feel a strong and constant urge during the last trimester to sort clothes on the shelves, buy new things for the house and rearrange the bedroom or nursery. This need for sorting, cleaning, and a general organization of living before the baby arrives is a well-known phenomenon that accompanies almost all future mothers and is called "nesting". In order not to leave out the most important things while being overwhelmed with ​​shopping for necessities and various obligations before the baby comes home, here you can read what are the main things to focus on when decorating the baby's room.
Basic furniture in the nursery

The basic furniture you will need is: a crib, a changing table and a chest of drawers to store and organize cosmetics, towels and diapers. When thinking about how to arrange the basic furniture, keep in mind that things like diapers, clothes, towels, creams and handkerchiefs must always be at your fingertips. It is very practical to have a comfortable armchair or a small sofa on which you can feed or breastfeed the baby or simply cuddle with it after waking up. As your baby grows, you will need more space to store clothes, various children's equipment and toys, which you should always keep in mind, so make room for decorative toy bags, or practical boxes, more drawers or maybe some shelves. No matter how hard it is to resist the cuteness of baby equipment, especially if it is your first child, try to be rational and practical and choose the things you are sure you need and will use for a long time.
Additional children's equipment in nursery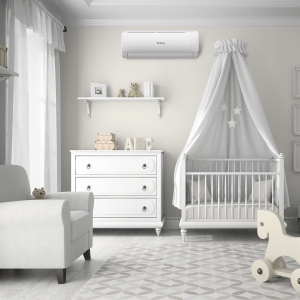 Once you get the basic pieces of furniture for your baby's room, you should also think about the small decoration detail to give the room a touch of originality and comfort. After determining the layout of the room, consider whether you want to paint the walls or decorate them with interesting wallpapers, which are both very modern and practical. Check the condition of the floor and whether you want to cover it with carpet or soft carpet, as the baby will start crawling in no time. It is advisable to secure the electric sockets with safety plugs, to lift the cables off the floor and to secure all sharp edges. In addition, a children's night lamp is another important thing when it comes to additional baby equipment. It is very practical to use when waking up at night and changing clothes and it can give a very nice aesthetic touch to a new room.
Clean air and optimal temperature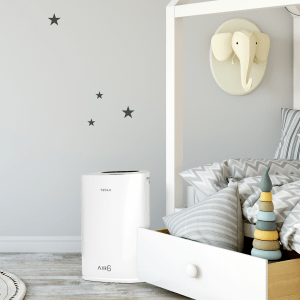 After taking care of furniture and equipment, many parents forget one very important detail – clean air for babies! Lately, there has been more talk about increasing air pollution, especially in our region, which is the reason why air purifiers have become a necessity for every family today. The good news is that purifiers provide fresh and clean air indoors and with regular use can prevent development of many diseases in the young ones. The HEPA activated carbon filter removes air pollutants and bacteria, taking care that those you love spend time in a healthy environment. In addition to clean air, babies also need optimal temperature, which you can quickly set with the help of an inverter air conditioner, which cools during summer and heats during winter. Ideal, isn't it? 😊 These air conditioners reach the set temperature faster and have a sensor inside the remote control that measures the temperature and activates the automatic program setting. Inverter air conditioners are also much quieter than the standard ones, so their operation will not interfere with the baby's sleep. Besides allowing you to control the air temperature in the baby's room, these air conditioners have the Anti-Fungus feature, which prevents the appearance of fungi and the spread of harmful bacteria, and maintains a healthy and pleasant environment.
Let your imagination run free, explore all the options, get some useful advice and make the furnishing of your nursery a real pleasure and satisfaction.