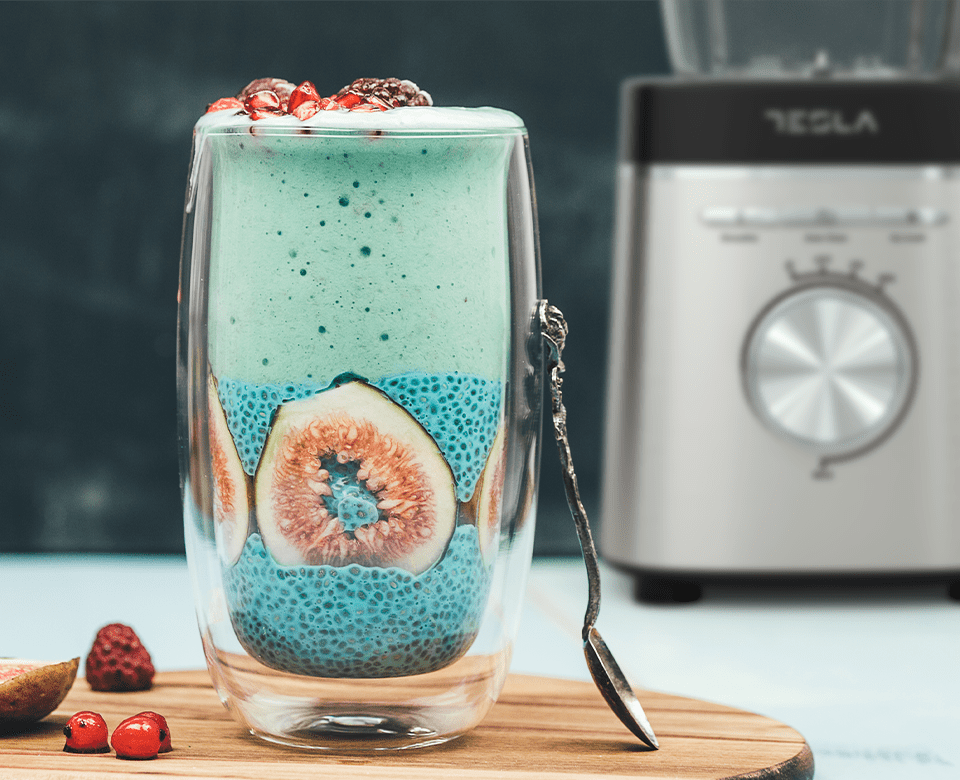 Reading time: 6 min
02.02.2023
SMOOTHIES YOU'VE NEVER TRIED BEFORE: HEALTHY, INTERESTING – AND INSTAGRAMMABLE!
These beautiful and tasty smoothies are full of nutrients that will replace the heavy, caloric meals we couldn't resist during January.
Are you still sticking to your New Year's resolutions? 😊 We are almost sure that you are not, and that one of them was (albeit a cliché) – to eat healthier.
We have good news for you – these smoothie recipes are not only packed with protein to keep you full for most of the day, but they're also deliciously perfect. You won't feel that you are shying away from your favorite food. And, you can prepare these smoothie meals in a few minutes using only the ideal smoothie blender – the Tesla blender!
Full of essential vitamins and minerals, a mixture of fruits, vegetables, milk or protein-rich yogurt, a smoothie can be an easy breakfast, but also an energy snack. It is an ideal replacement for empty calories that make you fat and make you full only for a very short time.
Ready to blend? 😀
Smoothie recipes:
1. Purple smoothie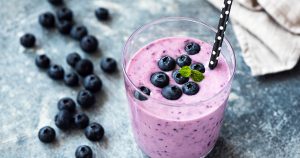 Light and creamy, this smoothie is a favorite treat for both children and adults. Every sip of this ultra-creamy smoothie will take you back to warm summer days.
Not only is this breakfast packed with antioxidants, but it also contains heart-healthy protein and fats, so you can count on staying energized all morning. Blueberries are little miracles – they are small, but with enormous powers.
It also takes less than 5 minutes to make, which is the kind of "no-fuss breakfast" that most of us all need. 😊
This protein smoothie is also great when it's in front of your camera. The strong purple color from the blueberries makes for a very eye-catching image that you won't be able to resist sharing on your Instagram profile. 😁
These are all reasons why this smoothie could definitely become your new favorite.
You will need:
– 3/4 cup vanilla almond milk
– 1/3 cup frozen blueberries
– 2 tablespoons whole oats
– 1 1/2 tablespoons cashew butter
– 1/2 teaspoon of vanilla extract
– 1/2 scoop of peanut protein powder
– ice
Preparation:
Combine all ingredients in a blender until the mixture becomes smooth.
Add ice and blend some more to thicken it up. Enjoy!
2. Smoothie with avocado and coffee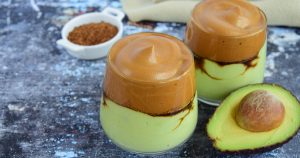 It sounds unusual. And if we tell you that we add basil and avocado to this smoothie, you will surely be skeptical. But there is no reason. The combination of these flavors is amazing – try it!
You will need:
– Half a ripe avocado
– A lime wedge
– A ripe banana
– Half a cup of almond milk
– A couple of basil leaves
– Coffee of your choice
– A few tapioca beads
Preparation:
Cook the tapioca beads according to instructions on the package. When they are ready, drain and transfer to a small bowl with a small amount of water at room temperature so that they do not harden and dry out.
Put half a peeled avocado, banana, almond milk, basil leaves and a little squeezed lime juice in a blender. Blend until smooth.
Put a few pieces of tapioca beads in a glass, then some coffee, then pour your avocado smoothie, and put coffee on top and enjoy!
3. Blue spirulina smoothie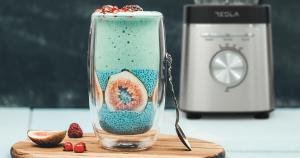 You will admit that this smoothie looks amazing! 😊 What is even more important, it also tastes like that.
For those unfamiliar with it, blue spirulina is a type of algae that has been consumed for centuries. It can now be found on sale in various forms including powder, capsules, tablets, etc.
Spirulina is packed with nutrients, including B vitamins, iron, copper, and smaller amounts of magnesium and potassium (just to name a few). It is also a source of vitamin B12, which is crucial for our nutrition.
Together, these various nutrients offer a number of health benefits that include lower cholesterol, antioxidant properties, lower blood pressure, etc.
Other than blue spirulina, an important ingredient in this smoothie is chia pudding.
The perfect ratio of chia pudding is 1/2 cup of liquid to 1.5 tablespoons of chia seeds. Technically speaking, 2 tablespoons of chia seeds is one 'serving'. So if you want to add full 2 tablespoons to 1/2 cup of milk, it will be a thicker texture.
To make chia seed pudding, simply mix the seeds, liquid and sweetener of choice. To avoid lumps, you can let it settle for a few minutes, stir again and then leave it in the fridge for at least 30 minutes.
The chia pudding can then be left covered, in the fridge, for 5 days.
How to make this smoothie?
Layer 1: Chia puding
▢1 cup almond milk or any milk of your choice
▢3 tablespoons chia seeds
▢1/2 tablespoon of your favorite natural sweetener
▢1/4 teaspoon vanilla extract
▢1/4 teaspoon blue spirulina powder
Layer 2: Spirulina smoothie od spiruline
▢1 frozen banana
▢1/2 cup almond milk or any liquid of choice
▢1/4 teaspoon blue spirulina powder
▢a few mint leaves
Decoration: figs or other fruits
To start, prepare the chia pudding.
To prepare the smoothie, put all the ingredients in a blender and blend until smooth.
To stick the fruit to the side of the jar, the secret is to slice the fruit really thin and make sure the glass is dry.
Place the fruit on the wall of a glass or jar, pour in the chia pudding and then the smoothie.
4. Smoothie with dark chocolate and cherries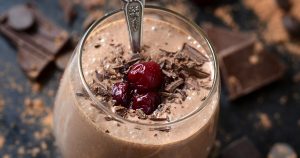 Do you like the chocolate and cherry combo? Who would have thought that a healthy smoothie could look so chocolaty and high in calories. 😊 And when you add frozen cherries, as natural antioxidants, it becomes even better.
You will need:
– 1 cup unsweetened vanilla almond milk
– 1/4 frozen banana
– 1/2 cup frozen unsweetened cherries
– 2 teaspoons of cocoa powder
– 1/4 teaspoon of almond extract
– 1 scoop of your favorite chocolate protein powder
– 2 teaspoons of chia seeds
– 1 teaspoon of dark chocolate chips
Preparation:
Mix the first 6 ingredients until the mixture is smooth and creamy.
Add the chia and dark chocolate, blending just a few times to retain the crunch. Pour into transparent glasses, sprinkle with cherries and grated chocolate for decoration, take some photos and enjoy the delicious energy!
ADDITIONAL TIPS:
WHAT IS BEST TO PUT IN A SMOOTHIE?
Greens: Spinach or kale are full of vitamins, and if you don't like them, you won't even taste them in a smoothie when combined with fruit! Adding greens to your smoothie is a great way to get antioxidants.
Frozen fruit: The advantage of using frozen fruit in a smoothie is the better texture of the drink. In addition, you can use seasonal fruits throughout the year and take advantage of their many benefits.
Nut butter: Add 1 to 2 tablespoons of peanut, almond, sunflower, or pumpkin seed butter to get good fats.
Seeds: Flax seeds or chia seeds are a great way to boost the nutritional value of a smoothie. These seeds offer an excellent source of heart-healthy omega-3 fatty acids.
Liquid: Use any type of plant-based milk for a creamy texture and protein.
HOW LONG WILL A SMOOTHIE LAST?
You can also freeze your smoothies. It is only important that you pour it into an airtight jar before freezing. This way, it can stay in the freezer for up to 3 months. To thaw it, leave it overnight in the refrigerator, then drink it the next day.
MOST COMMON PREPARATION MISTAKES
Many believe that the best smoothie preparation is with the blender turned on at the highest power for as short a time as possible. However, it does not give the best results. We suggest starting with a low speed and gradually increasing the power, which allows the blades to break down the ingredients more efficiently.
Which smoothie will you try first? 😊 Check out our offer of smoothie blenders that will make it easier for you to prepare these unusual drinks and enjoy new flavors!