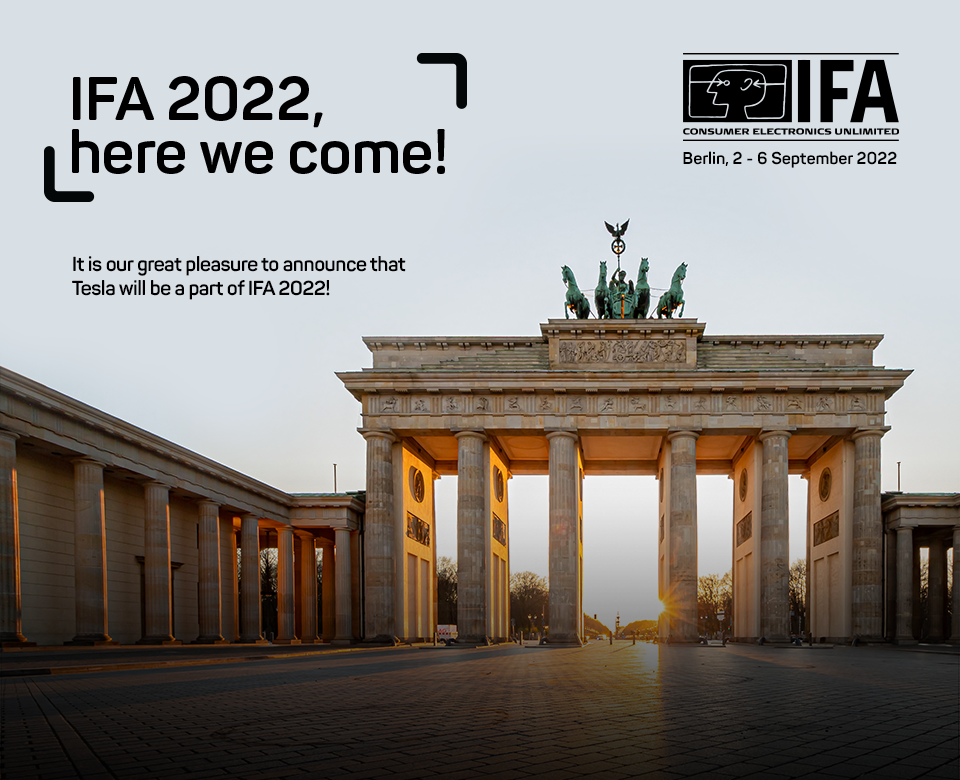 Reading time: 3 min
15.07.2022
IFA 2022, here we come!
It is our great pleasure to announce that Tesla will be a part of IFA 2022! At what's commonly called world's most significant technology marketplace, we will have 220 m² of space to showcase our best products and create exclusive, fun experiences for all those who visit Tesla exhibition area.
IFA is the main meeting place for key retailers, buyers, and experts from our industry, as well as one of the most inspiring and important exhibitions in our line of work. This year, the event will be organized from September 2nd to 6th at the Messe Berlin Exhibition Grounds in Berlin, Germany.
If you'd like to know more about it, visit IFA Berlin, 2 September – 6 September 2022 – Homepage (ifa-berlin.com).
We see Tesla being included as one of this year's IFA brands as a great honor, as well as an amazing chance for us to continue our global expansion and introduce Tesla devices to an even wider audience. It is an exceptional opportunity to present our key products in the heart of one of Europe's most important regional markets – at an event that attracts the attention of international trade visitors from more than 130 countries each year!
Our whole team is so grateful and excited for this possibility, and most of all, focused on making sure we use it to the best of our abilities. Stay tuned for more info on this exciting event!