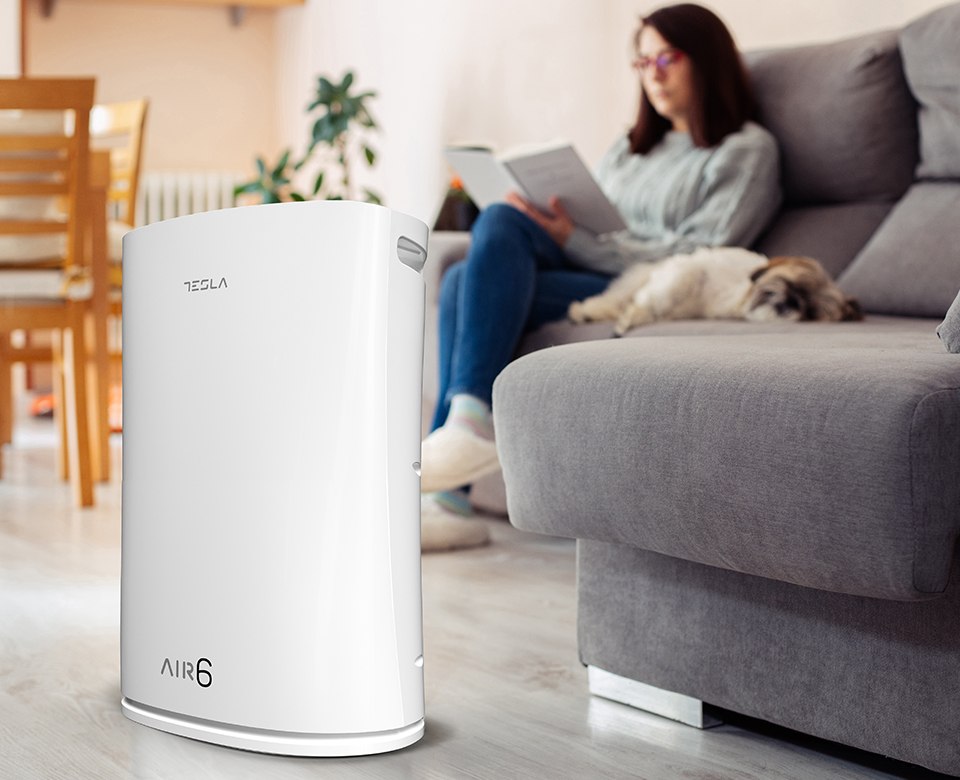 Reading time: 4 min
19.04.2021
GET RID OF POLLUTED AND DRY AIR FAST
Heavy air pollution has been one of the hot topics in the media in recent months. We are in a group of countries with the most polluted air in the world, as recently reported by the Global Alliance on Health and Pollution. In addition, cold weather brings a reduced level of humidity in the air. The main question is how to protect yourself and your family from this problem?
Air pollution can cause serious health issues to the population. The health impact can vary, depending on the amount of polluting particles in the air. This situation is significantly aggravated during the heating season. For this reason, it is important to have an ideal ally in your home that will help you not to worry about air quality.
How is quality of air calculated?
The Environmental Protection Agency uses a system of five colours and five classes to mark air quality, depending on the value of the concentrations of individual pollutants.
Air quality can be marked as excellent, good, acceptable, polluted and heavily polluted, as well as green, blue, yellow, red, and purple.
Purple denotes heavily polluted air, while green means the air is of excellent quality.
This agency measures the quantities of sulphur dioxide, PM 10, nitrogen dioxide, and cobalt particles daily and uses the results to determine air quality.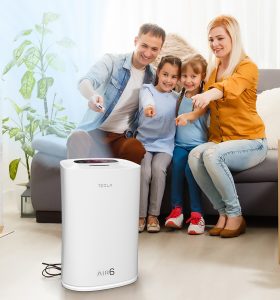 How to maintain excellent air quality in your home?
Tesla Air Purifier 6 has a working range of up to 36 m2, making the air you breathe in your home perfectly fresh and clean. Your loved ones will feel the difference as soon as they enter the room. Inhale purity, exhale with relief.
In addition, thanks to Tesla's integrated air quality sensors, you can now monitor the current pollution level on the LED icons which change colour according to the current values of the world-renowned air quality index (AQI).
Tesla Air Purifier 6 is a point where technology and smart design meet. Its high performance can be proven – just look at the CADR (Clean Air Delivery Rate) rate. Wondering how much purified air it produces and how fast? We are talking about 300m³ per hour!
All you need is a Wi-Fi connection – and you will be able to take a deep breath. Literally. Turn on the air purifier from anywhere at anytime, using the smart app.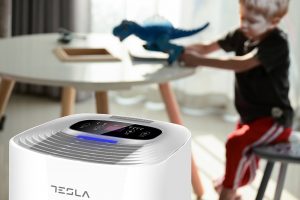 Tesla Air purifier 6 is designed with your health in mind. The HEPA activated carbon filter removes air pollutants and bacteria. With various filtration options, this Tesla air purifier helps you eliminate fine dust, microbes, pollen, and other particles that you do not want in your vicinity. Tesla air purifier filters are extremely efficient and permanently trap polluting particles, making sure that both you and those you love spend time in a healthier environment. To maintain optimal performance, it is recommended that the filter be replaced approximately every six months. Do not worry: the filter replacement indicator is there to remind you when it's time. In the meantime – breathe with ease.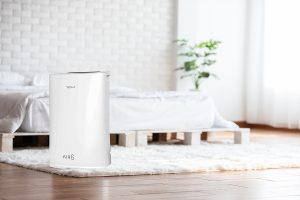 What if the air in the room is too dry?
Every type of heating dries the air in your home during winter. A low level of humidity in the air is just as harmful as a high one. The optimal humidity in the house, office, and other rooms in which you spend time during winter is about 45%. Dry winter air can cause the humidity in the house to drop below 15%, which is further aggravated by heating the rooms, especially with central heating. With this come potential problems that can affect your health, your home, and your comfort. A humidifier is the right choice when it comes to raising the percentage of humidity in your home. But all of this is not just about the humidity numbers and percentages – it can directly and seriously affect the health of yourself and your family, your pets, plants, and your home interior. Dry air in your home can increase allergic responses, cause poor sleep, dry skin, and dry nasal mucosa, which makes it easier for bacteria, viruses, and allergens to enter the respiratory system and cause health issues.
If you cannot make up your mind whether you want to maintain a pleasant level of humidity or breathe fresh air, we have a solution – with the humidification option offered by the Tesla Air Purifier 6, you can now have both. Humidify the air and avoid dryness which causes many irritations and respiratory problems.