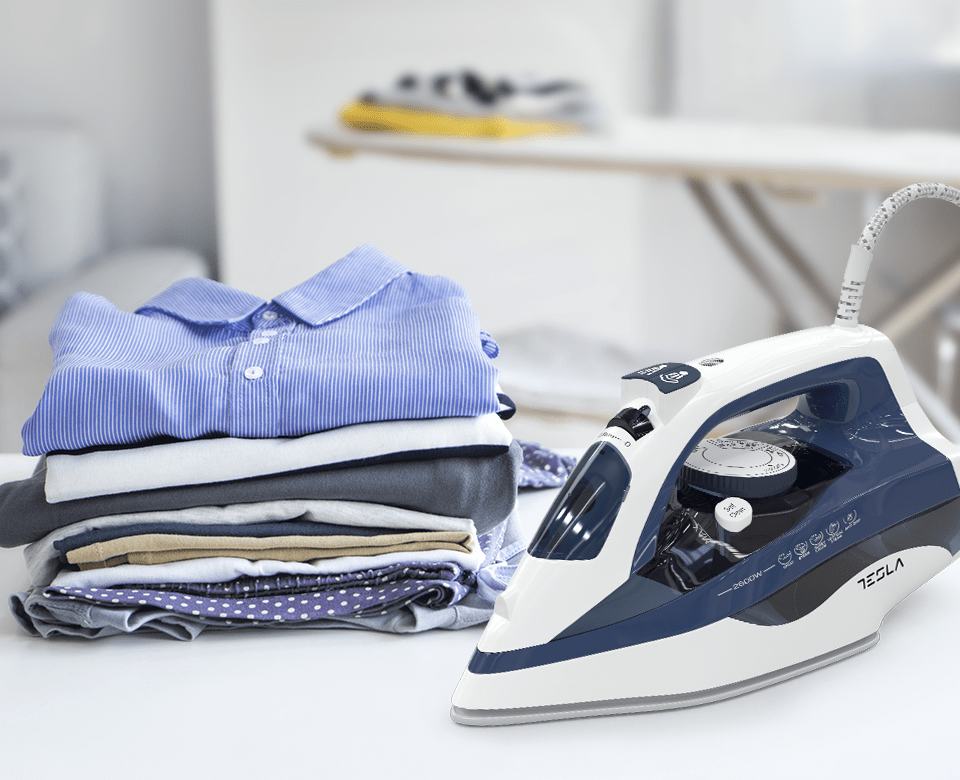 Reading time: 2 min
24.02.2023
CLOTHES IRONING TEMPERATURES: THE COMPLETE GUIDE
How many times have you ruined your favorite piece of clothing because you didn't set the ironing temperature correctly? With this recommended ironing temperatures guide (which you can also download from our blog), you'll never have that problem again.
You will agree that there are few household chores as boring as ironing clothes. 🤭 It takes a lot of time, energy, and it often doesn't give the desired results – either the fabric wasn't ironed properly, or you burned it using the wrong temperature setting.
A good washing machine – less hassle with ironing
If you wash your clothes properly in the washing machine and dry them in the dryer, half of the work is already done. Especially if the dryer has an anti-creasing program, like the Tesla WT8H91M dryer. This drying cycle uses special technology to make your laundry softer and less wrinkled.
Ironing, however, is often unavoidable
Although modern fabrics that do not require ironing are being used a lot more, ironing is inevitable when it comes to most traditional fabrics. After all, it is also one of the ways to additionally disinfect the laundry.
At what temperature are different fabrics ironed?
In one of the previous blogs, we explained in detail what the clothing label symbols mean. There you got to know what the manufacturers' recommendations are – to iron the clothes or not. Now, we will explain the symbols related to ironing in detail with a complete guide to ironing temperatures. Because the correct temperature on the iron for each type of fabric is of the utmost importance. This choice actually makes the difference between a job well done and a disaster. 😊
As you will see in the guide to recommended ironing temperatures, there is also information on when and how much steam you need, as well as important notes.
Recommended ironing temperatures for each fabric (You can download this chart by clicking on the link)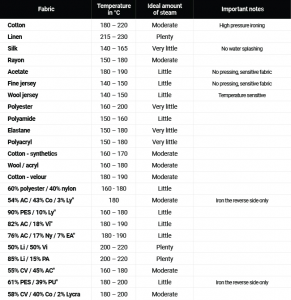 Finally, choosing the right iron is crucial. Tesla irons allow you to release steam up to 135 g/min and remove even the most stubborn creases or freshen up your clothes during vertical ironing.
Are you annoyed by water dripping while ironing?
Tesla irons have an anti-drip function that prevents water from dripping and staining the bedding, shirts and other clothes during ironing.
Choose your favorite Tesla iron, powerful enough to straighten even the most stubborn wrinkles.
We hope that this guide helps you prevent future inconveniences during ironing and to make this inescapable activity as simple and quick as possible. 😊