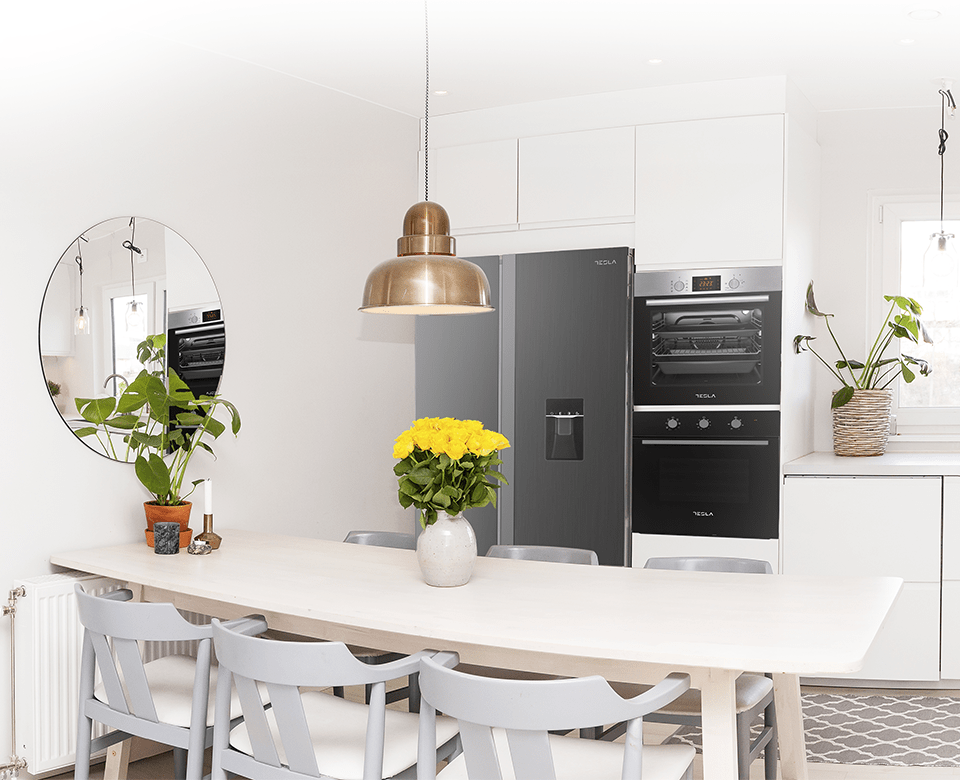 Reading time: 3 min
02.11.2023
ACHIEVE AESTHETIC BEAUTY IN YOUR KITCHEN WITH STAINLESS STEEL APPLIANCES
The kitchen is the heart of every home, a place where a considerable amount of time is spent preparing meals and gathering with family. To bring modernity and elegance to your kitchen, stainless steel appliances are a great choice. Stainless steel, is a material that is known for its durability and attractive aesthetic. However, in order to create the kitchen of your choice using stainless steel appliances, it is important to carefully consider the best set up for optimum functionality and look. In this blog, we will explore some tips on how best to achieve this.
Alignment with kitchen colors
The first thing to consider is the color of your kitchen cabinets. If you're after a modern look, stainless steel appliances go best with neutral colors such as white, gray and black. However, stainless steel appliances also fit very well with a wide range of colors if modern isn't your only vibe. Here are a few top picks:
White: The combination of white kitchen cabinets and stainless steel appliances creates a clean and modern look.
Gray: Grey kitchen equipment, whether light or dark, can create an elegant contrast with stainless steel appliances.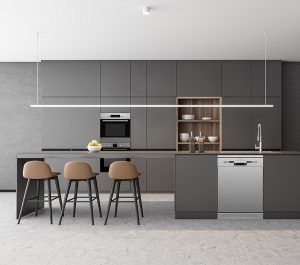 Black: Black and stainless steel together create a luxurious atmosphere in the kitchen. Black kitchen cabinets or cabinets with stainless steel details look particularly impressive.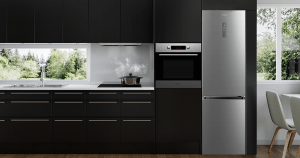 Wood: Wooden elements in the kitchen, such as wooden cabinets or work surfaces, can be combined with stainless steel appliances to achieve the balance between a natural and industrial modern style.
Blue: Blue compliments yet creates a vivid contrast with the cold tones of stainless steel, giving off a warm modern vibe.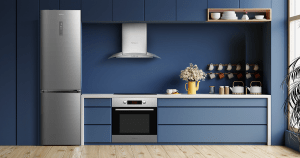 Green: Shades of green, such as turquoise or emerald green, can create a natural and refreshing contrast with stainless steel appliances.
To achieve a visually pleasing result, it's important to consider the style, design and overall ambiance of the kitchen, as these factors play a significant role. Additionally, it's worth noting that light sources, such as lamps and windows, can influence how colors are perceived in the kitchen.
Combination with other materials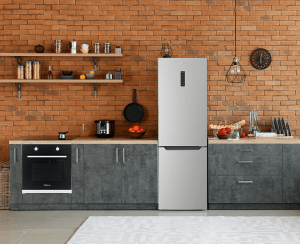 Stainless steel can look even better when combined with other materials. For example, granite countertops or stone elements on the wall can create contrast and add texture to your kitchen. Also, wooden elements, such as wooden floors or wooden cabinets, can add warmth to the space and counteract the coldness of stainless steel.
Select the right details
Details are key to achieving a perfect look. These include doorknobs and handles on kitchen cabinets. Choose doorknobs and handles that are made of stainless steel or have a similar finish to create a cohesive look. Also, consider glass doors on some of the kitchen cabinets, which will allow stainless steel appliances to stand out and be the center of attention.
Lighting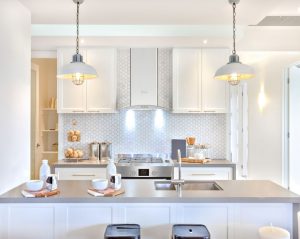 Proper lighting can dramatically affect the appearance of the kitchen. This will highlight stainless steel appliances and add a modern note to your kitchen.
Stainless steel maintenance
Stainless steel is known for its resistance to stains and scratches, but to preserve its glossy surface, regular cleaning is key. Use a mild detergent and a soft cloth to wipe the surface of the appliance. Avoid abrasive cleaners or metal sponges, as they can scratch stainless steel.
By following these tips on colors, materials, details and lighting, you can achieve perfect harmony in your kitchen. In addition to looking beautiful, stainless steel appliances will provide you with long-lasting functionality and durability.
Take a look at the selection of Tesla Stainless Steel Appliances and choose the one that suits you best.
We hope that these tips are useful to you and will help you achieve the desired look you are after. Now you can enjoy a modern and elegant kitchen that will attract the attention of all your guests! 😊