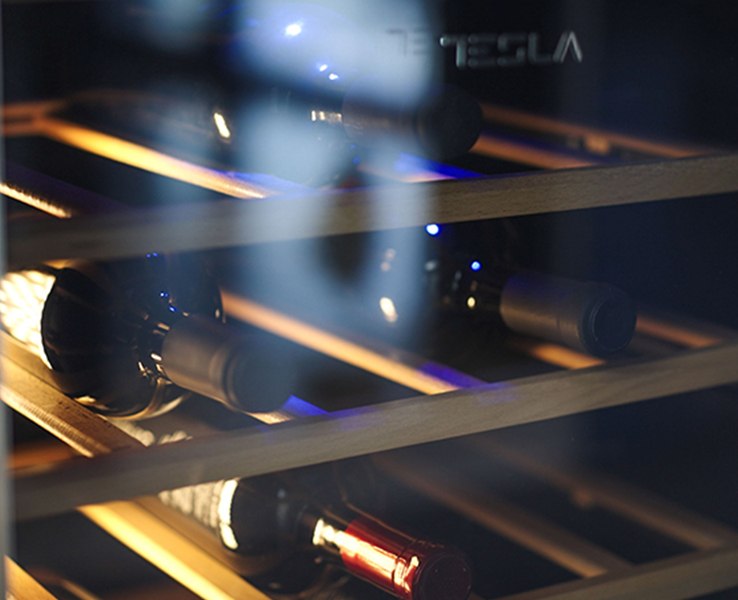 Reading time: 2 min
08.05.2023
A PERFECT TEMPERATURE FOR PERFECT ENJOYMENT IN WINE
For wine lovers, having a glass of favorite wine is sort of a ritual, which includes different aspects: selecting the right bottle, opening and serving the drink, and enjoying its color, taste and aroma. If you have a loved one who enjoys wine, there's no better gift than something that will allow them to cherish this process even more.
This is precisely where Tesla RW091M wine cooler comes to mind: a contemporary, stylish wine fridge is an ideal gift for any wine lover. Thanks to its sophisticated design, this device will not only help you store your collection at a perfect temperature, but also add a bit of elegance to any space.
Open your senses to aroma and taste of your favorite wines in the best possible way, thanks to this contemporary wine fridge!
Tesla wine cooler has a capacity of 34 bottles, and you can set the temperature anywhere between 5 and 18 degrees Celsius to create an ideal storage space for different wines. The device also has a temperature control system, allowing you to set it according to your needs. This feature is crucial for keeping your wine at an optimal temperature, which means you'll always enjoy a sophisticated, rich taste.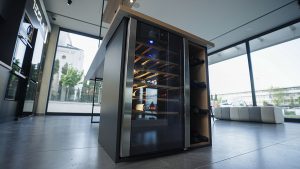 Tesla RW091M wine cooler is attractively designed, which makes it a perfect fit for any room in your home. It also has a double glass door, that allows for better insulation and helps the device keep a constant temperature.
The device also boasts beautiful blue LED lighting, which creates a perfect atmosphere for that much-anticipated glass of your favorite wine in the evening. The shelves are made of natural wood, helping you display your collection in a simple and elegant manner, and perfectly complementing your wines.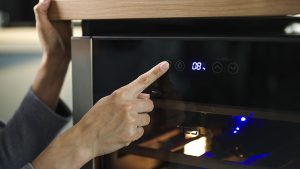 Yet another advantage of this wine cooler is its quiet operation. Thanks to contemporary technology, this model works almost completely silently, so you can put it in any room you want.
This device also has UV protection, which is immensely important in order to protect your wine from sunlight and preserve its quality. With Tesla wine cooler, your wine collection will always be safe, and ready for you to enjoy!
In short, Tesla RW091M wine cooler is a great device, one that provides you with a high level of performance, aesthetics and functionality. Whether you're buying it for yourself or as a gift to someone, it will surely be appreciated, and a useful addition to every wine collection.