Reading time: min
20.05.2022
WHAT'S NEW IN TESLA AIR CONDITIONERS IN 2022?
Fresh and clean air, excellent performance, with lower energy consumption, fast cooling, superior self-cleaning, and above all – the preservation of environment, are the main features of Tesla air conditioners in 2022.
At the same time, they are characterized by a modern and simplistic look, which can be easily harmonized with all types of interior design.
Breathe in fresh air without opening the window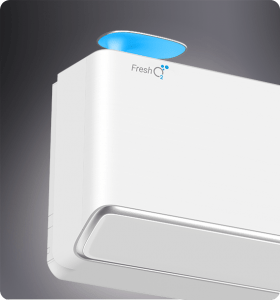 With the new Tesla model, fresh air will be all around you, assisted by four layers of filters, while the new design will enable the flow of fresh air up to 30 m3/h!
Those who suffer from allergies will be happy to hear that Tesla air conditioners have special ionization and lysozyme filters, which place harmful microorganisms in lower part of room air, reducing the chances of people inhaling them. In addition, the new Tesla models feature a HEPA H11 filter that successfully removes fine dust, germs and pollen.
Antibacterial formula in the fight against microorganisms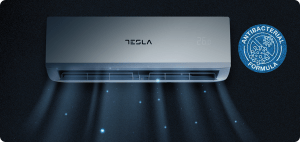 The new Tesla air conditioners also have a UV lamp, which offers additional help in the fight against unwanted microorganisms. By emitting waves up to 285 nm, it helps to create areas without viruses and bacteria, as well as without their negative side effects.
Turbo mode with maximum energy efficiency
One of the key features of the new generation of Tesla air conditioner is the Inverter technology, which allows the device to quickly reach the desired temperature, whether it is heating or cooling. This innovation enables far lower consumption, bringing great savings, which makes them a great solution for cooling during the summer and heating during the winter.
Superior self-cleaning
Don't worry about the hygiene and AC maintenance, because Tesla models now have automatic elimination of condensed moisture – they create a dry environment, which prevents bacteria development. During the self-cleaning process, the indoor unit operates in a special mode that helps the evaporator to dry.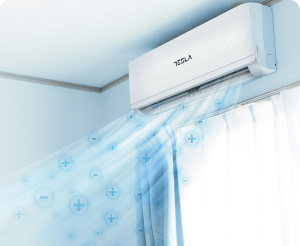 With modern technology, Tesla air conditioners are easy to use and maintain.